ABOUT PANTHER RIDGE FARM
PANTHER RIDGE FARM is a hyper-local first generation family farm founded in 2011 and is located 15 miles outside of Los Angeles in the foothills of the San Gabriel Mountains on just over a 1/4 acre of semi-suburban residential land. We practice sustainable non-certified organic urban agriculture and grow a wide assortment of year-round fruit, vegetables, nuts, herbs, flowers and mushrooms. We raise heritage fowl for eggs and meat, and keep bees for pollinating our crops and for honey in our tea. We are devoted to utilizing cooperative business models to inspire, develop and implement solutions to local food sovereignty. PANTHER RIDGE FARM focuses on developing human-scale community-based food production methods, in order to support local and regional agricultural movements working towards food sovereignty and food shed resiliency. This includes engaging, learning from and training community folk in the San Gabriel Mountain areas, with an emphasis placed on those that are most under-resourced, marginalized and negatively impacted by food and land degradation.
PRF's goals are: (1) Social enterprise (2) community capacity building through training, research and cultural education and (3) policy development and advocacy.
ABOUT THE OUTDOOR SCHOOL AT PANTHER RIDGE FARM
The Outdoor School at PANTHER RIDGE FARM (the Outdoor School) is an environmental education program of PANTHER RIDGE FARM that
offers wilderness and agricultural experiences for children and their families. These local environmental explorations and hands-on learn-by-doing experiences are designed to foster a sense of reverence and respect for life on our planet and to develop mindfulness of the natural systems that connect and sustain us all. It is our goal that through these experiences we are creating the next generation of environmental leaders and community stewards.
OUR MISSION
The mission of the Outdoor School is to provide families with meaningful outdoor experiences that develop capacities and skills in nature to encourage self-awareness and compassion with a sense of equity and responsibility for the Earth, their community and each other throughout their lives.
OUR PHILOSOPHY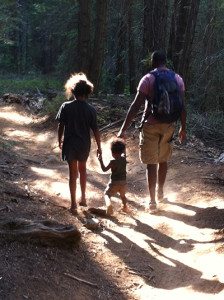 The class offerings of the Outdoor School are grounded in our desire to have parents, guardians and students interact and learn closely with nature. Our goal is to provide an experience through which the students gain an awareness of the interrelationship and interdependence of all living things. From hiking outings, to journaling, from foraging outdoors, to community celebrations, the philosophy of immersion is present. Interactions between instructors and students focus on fun, creativity, respect, awareness, understanding and learning.
As teachers and naturalists, we believe:
What a student "hears" he may forget
What a student "sees" she may remember
What a student "experiences" they will KNOW
At PRF the natural world is revealed, so that we may witness and experience our role in nature.
"We moved to Altadena to get out of the density of LA and heard about Panter Ridge Farms at the local farmers market. My husband and I love the outdoors and felt that our daughter was not getting the same exposure to it that we did as kids. We jumped at the opportunity to take this class and couldn't be happier. Hop and Jessica are so knowledgeable and make it a fun loving environment. My daughter is excited all week to go to "hiking class". She now scavenges our yard for pinecones and is always asking me about different pants and trees. From the amazing recipes and book lists to the funny informative plays, the two hours we spend in class is the best all week!" — Alexandra, parent of a 4 year-old girl