I grew up in the mid 70's in a rural area where my family farmed as a hobby and way to eat healthier. Living in Los Angeles gives my son a lot of opportunities that I missed out on as a kid but also leaves him lacking in some of the best experiences I've had in my life. Hop and Panther Ridge Farms gives my son a chance to feel that human connection with our planet and to develop the love and respect for nature that is missing in urban life. I can't express how thankful we are these classes exist! — Kristina, parent of a 7 year-old boy
Our Method
Students explore the meadows, streams, riverbeds, stables, urban farms, cities, and trails of the San Gabriel Mountains. We encourage children and families to become closer to and make personal connections with the land as they move through our programs. As students smell, touch, see, hear, and taste to learn, conservation and stewardship principles become real, tangible, and meaningful. Through compassionate guidance and the use of Nonviolent Communication (NVC), students learn to observe, internalize shared knowledge, formulate questions, and draw conclusions about the world unfolding before them.
Our Approach
Our approach is experiential and enhanced by these foundational practices:
Storytelling – we use the power of stories to bring learning to life. Stories illustrate the lessons and are allowed to live and deepen within the class across a three-class cycle of listening, recalling and recording.
Hands-On Activities – each activity offers opportunities for students to feel and experience learning as a dynamic experience. In this way, lessons are connected on a deeper level — living inside the students. For instance, instead of learning math facts from a textbook, students may go to the garden to calculate how many rows of seeds they can plant. When learning how early civilizations first made rope, students visit the mountains, harvest yucca and make rope themselves. These experiences are unforgettable and have a powerful and lasting educational impact.
Movement & Circle Activities – A child's physical development cannot be ignored as a key factor for educational success. To strengthen a child's coordination, movement and ability to integrate their senses, each class includes physical and rhythmic exercises. These activities allow more opportunities for the student to connect to the experience through multiple senses. We also use the group meeting structure known as Council to meet, plan, reflect and resolve community conflict.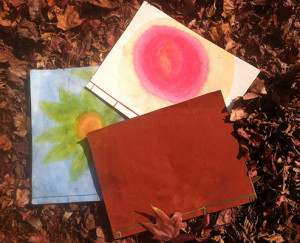 Art – Artistic expression is a part of each class. Singing, drawing, painting, nature sculpting and other hands-on activities engage children as they interact with the land, themselves and with other students. We believe artistic engagement allows children to develop deeper expressions of creativity, beauty and love of the land.
Journaling – During the first week of class, participants at the Outdoor School create their own journals. For homeschoolers, this journal can be used as a supplement to your child's Main Lesson book. This journal will be used by each child to record their work on the land in their own hand. These journals with your child's illustrations serve as a record of each child's individual experience and can be cherished keepsakes of their outdoor experiences.
A Typical Experience At the Outdoor School
We start each session by coming together in a circle to get to know each other, to create community agreements and to discuss individual as well as group expectations. We play games, sing songs and tell stories that help us become a group. Each class builds on the previous class as we collectively become more aware of nature around us by actively engaging our senses and using basic traveling skills such as silent observation, caring for the trails we walk on, tracking wildlife, employing natural camouflage and learning traditional uses of native plants. Once we have warmed up in our circle, we begin our adventure into discovery, celebration, skill development, storytelling and play. Exploration in diverse environments brings up topics of focus such as our role as stewards in nature, local history and folklore, scientific inquiry, local wildlife biology, weather and seasons, ecosystems and natural cycles, ethnobotany, traditional wilderness skills and crafting with natural resources. We finish with a circle and take time to share experiences, highlight surprises and unexpected discoveries of the day and give appreciations to one another and the land we have enjoyed.
Marking The Seasons
As the seasons weave in and out, we mark our rhythms with community gatherings and festivals. We encourage families to bring festivals from their family history, culture and home to our community so that we may all gain awareness and share in the celebration. Please see our calendar for current and upcoming events.
Our Commitment To Diversity
We welcome students, parents and guest instructors of all races and sexual orientations, and of all faiths and creeds. We respect and support each individual's spiritual beliefs and practices.
It is a fundamental goal of our program to bring students to an understanding and experience of the common humanity of all of the world's people, transcending the stereotypes, prejudices, and divisive barriers of classification by sex, race, religion, gender, class, nationality, and ability.
At PANTHER RIDGE FARM, students will hear stories from cultures from the world over. We believe learning earth-centered traditions from other cultures and religions as they are expressed in its art and science, its music and its handcrafts helps students develop curiosity, interest and empathy for those different than themselves.